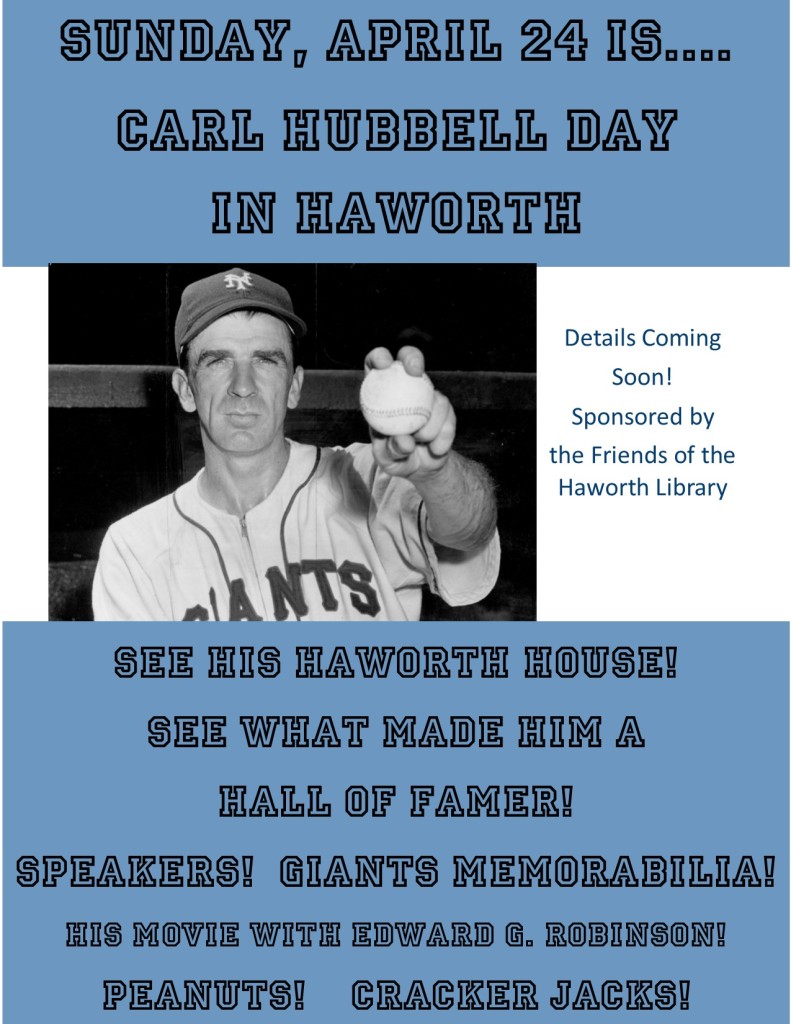 HAWORTH TO CELEBRATE "CARL OWEN HUBBELL DAY"
BASEBALL HALL OF FAMER AND FORMER RESIDENT
Two of our members to speak, Peter Laskowich & Jerry Liebowitz!!
Baseball Hall of Famer Carl Hubbell was called the "Meal Ticket" for the New York Giants during the 1930s, or sometimes "King Carl." He helped take the Giants to three World Series. In the 1934 All Star Game he struck out five future Hall of Famers in a row, starting with Babe Ruth and Lou Gehrig. He was the National League's Most Valuable Player in 1933 and 1936. And from 1946 through 1950, he and his family lived in the small Bergen County town of Haworth, New Jersey (at the time he was developing the Giants farm system).
Carl's old team, now the San Francisco Giants, recently honored his time in Haworth with a $500 contribution to the Haworth Library's building fund—enough to memorialize the pitcher's name on the library's Donor Wall. Up until that donation, probably only the town historian and the people who live in the Hubbells' former home knew of his time here. While everyone in town knows that actress Brooke Shields once lived here, and some may know that General Henry Robert, who wrote "Robert's Rules of Order," had a Victorian house on Sunset, the Giants' donation was a big surprise to local folks who had no idea that the town had been home to a resident truly in a "league of his own," a man famous for what was called a "baffling" and "devastating" screwball. The Giants' donation created so much local interest that the Friends of the Haworth Library decided to celebrate Hubbell's legacy and residency with a special day.
To that end, the Haworth Borough Council has passed a resolution officially making Sunday, April 24, "Carl Owen Hubbell Day." At 1:30 PM the Hubbell family home, 474 Haworth Ave., will be open to see, and a video there will showcase Hubbell's baseball career. At 2:30 at the Haworth Library, 300 Haworth Ave., New York baseball historian Peter Laskowich will talk about the place of the Giants, and Hubbell, in baseball history, and Jerry Liebowitz, with the New York Giants Preservation Society, will show off his collection of Hubbell and Giants photographs and memorabilia. Additional photos have been sent by Carl Hubbell's two sons, Carl, Jr., and James, who now live in the Midwest. Finally, at 4 PM, when the speakers are finished, there will be a showing of the 1953 movie Carl made with Edward G. Robinson and Vera-Ellen, "Big Leaguer" (it was the first movie directed by Robert Aldrich, who went on to make "Whatever Happened to Baby Jane" and "The Dirty Dozen"). Peanuts and Cracker Jacks will be served.
For more information on "Carl Owen Hubbell Day," contact Beth Potter, president of the Friends of the Haworth Library, at 201-384-1020 (or Beth's cell, 201-723-6289).